Kristen Crippen: An #NDNSatHOME Story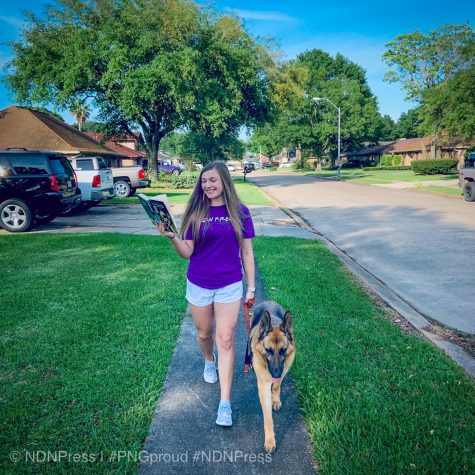 Kristen Crippen is a senior at PN-G. On a normal school day, she is involved as a senior class president, student body president, Indianette captain, War Whoop editor, NDN Press Club, National Honor Society vice president and T.R.I.B.E. This is her #NDNSatHOME story.
Q: How do you keep yourself busy at home?  
A: Aside from the mountains of homework, I have been learning to cook different items to get ready for college next year — and I take lots of rides around town with my family!
Q: What is something fun you've done this week?  
A: I decided to take up a new DIY project that is made up of my memories from high school. I have been going through all of my pictures and mementos over the past four years, which has brought back many wonderful memories.
Q: What is one thing you have wanted to do this week, but couldn't?  
A: I would very much like to resume classes at my dance studio, June Badon's Elite School of Dance and Acrobatics, but I understand it is still dangerous for large groups to gather.
Q: How do you like the online assignments? Are they easy or hard?  
A: Personally, I am not the biggest fan of online classes. I would much rather have the paper assignments while sitting in my classes, but this new system is a good preparation for college classes next year. The work isn't too hard, there's just a lot!
Q: What is one thing you miss from school? Why?  
A: One thing I miss from school are all of my classmates and teachers. I was so ready to see them that first Monday after spring break. I can't believe it's been so long since I have seen most of them. I would love to give everyone a big hug as soon as we can!
Q: How do you feel about no more toilet paper in the stores?  
A: I truly do not understand how we ran out of that product so fast! I would think that perishable foods, such as meat and dairy products, would have been gone faster, but I guess I'm not an expert!
Q: What's the most interesting thing you've seen or heard throughout this experience?  
A: The most interesting thing seen over this quarantine is the way people have found a loophole in all of the social-distancing rules. My favorite is when people park their cars at least six feet away, and talk to one another through their trunks! I have done this with a few friends, and it was definitely an interesting way to see the people I miss most!
Q: If you had one message to send your classmates right now, what would it be?  
A: I would want to tell each and every one of my classmates that I miss them dearly, and can't wait to celebrate the rest of our senior year with them. We will overcome this challenge, and thrive as we move on with the next step of our education of work careers. Remember, we're all in this together.
If you'd like to tell us your #NDNSatHOME story, send an email to: [email protected] and we'll send you a list of questions. Be prepared to send us a photo of yourself.