Elisabeth Elliott: An #NDNSatHOME Story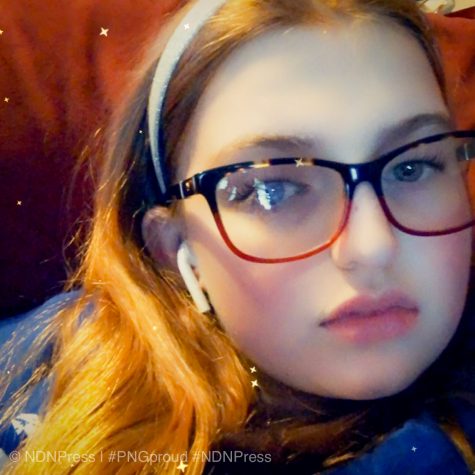 Elisabeth Elliott is a freshman at PN-G. On a normal school day, she is involved in art. This is her #NDNSatHOME story.
Q: What's the first thing you want to do when things go back to "normal?"
A: Just see my friends a give them hugs.
Q: What's one positive thing you think you can pull away from this situation?
A: During this situation I have cleaned my room I think that is a positive thing.
Q: What have you learned about yourself while distance learning has been in place?
A: I have learned that I am very annoying.
Q: If 2020 had a theme song what do you think it would be?
A: "Six feet apart," by Alec Benjamin.
Q: Have you taken up any new hobbies with all the free time? What are they?
A: Bracelet making is my new hobby.
Q: What's your favorite distance learning class and why?
A: My favorite distance learning class is art the class is the easiest and funnest.
Q: What's one thing you're looking forward to next year that you hope doesn't get affected or ruined because of COVID-19 AND why?
A: For next year I am looking forward to prom.
Q: Finally, what message would you like to give to your fellow classmates?
A: A message I would like to give to my fellow classmates: I miss y'all.
If you'd like to tell us your #NDNSatHOME story, send an email to: [email protected] and we'll send you a list of questions. Be prepared to send us a photo of yourself.