Jonah Smith: An #NDNSatHOME Story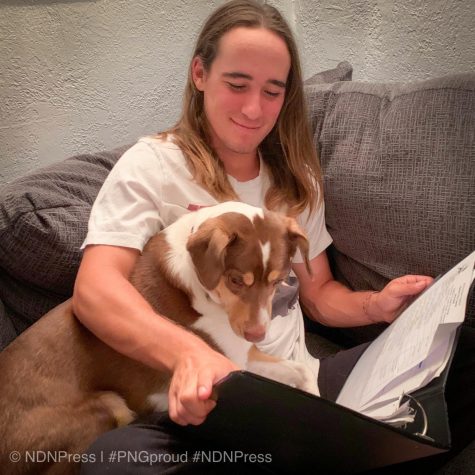 Jonah Smith is a senior at PN-G. On a normal school day, he is involved in tennis, cross country, T.R.I.B.E, G-Crew and National Honor Society. This is his #NDNSatHOME story.
Q: What's the first thing you want to do when things go back to "normal?"
A: I would love more than anything to get back with all of my classmates and take part in the end of the year activities!
Q: What's one positive thing you think you can pull away from this situation? 
A: I've learned more effective time management skills since I have to do school work on my own time.
Q: What have you learned about yourself while distance learning has been in place?  
A: I've learned that I do a lot of stuff by myself because I'm still doing a lot of what I would have still been doing if the quarantine wasn't in effect.
Q: If 2020 had a theme song what do you think it would be?   
A: "Good Riddance," by Green Day.
Q: Have you taken up any new hobbies with all the free time? What are they?  
A: I've been going fishing with my brothers pretty often.
Q: What's your favorite distance learning class and why?  
A: My favorite distance learning class would have to be Economics because it's very easy to teach myself and to finish the assignments.
Q: Finally, what message would you like to give to your fellow classmates?  
A: I hope y'all are doing well and making the best of this situation! Remember to appreciate all of the small things you are given each day and I hope to see you all at graduation — the Class of 2020 will never be forgotten!
If you'd like to tell us your #NDNSatHOME story, send an email to: [email protected] and we'll send you a list of questions. Be prepared to send us a photo of yourself.