Shelby Balsano: An #NDNSatHOME Story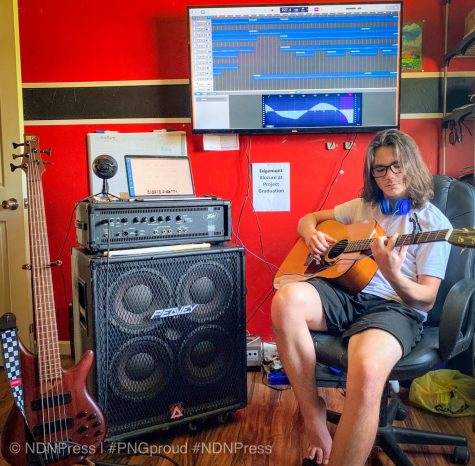 Shelby Balsano is a senior at PN-G. On a normal school day, he is involved in the Purple Pride Band and the band, Klozure. This is his #NDNSatHOME story.
Q: How do you keep yourself busy at home? 
A: I usually work on my schoolwork for a considerable amount of the day but I take breaks occasionally to keep from losing my head. During my free time from school I read Harry Potter, play video games and watch TV. I also practice bass a lot in order to learn new songs for Klozure.
Q: What is something fun you've done this week?
A: I've played with three-week-old puppies this past week.
Q: What is one thing you have wanted to do this week, but couldn't?
A: I wanted to jam with Klozure, but I couldn't leave my house.
Q: How do you like the online assignments? Are they easy or hard?
A: I like online assignments more than actual school because I can work at my own pace. If I want to get everything done early one week I can do so in order to have more free time at the end of the week.
Q: What is one thing you miss from school? Why?
A: I miss being able to see my friends, because I took for granted being able to see and talk to everybody every day.
Q: How do you feel about no more toilet paper in the stores?
A: I feel pretty good, because I've got a nice, hefty stock of toilet paper to last through the apocalypse.
Q: What's the most interesting thing you've seen or heard throughout this experience?
A: Murder hornets without a doubt.
Q: If you had one message to send your classmates right now, what would it be?
A: Klozure baby.
If you'd like to tell us your #NDNSatHOME story, send an email to: [email protected] and we'll send you a list of questions. Be prepared to send us a photo of yourself.