Sara Ashfaq: An #NDNSatHOME Story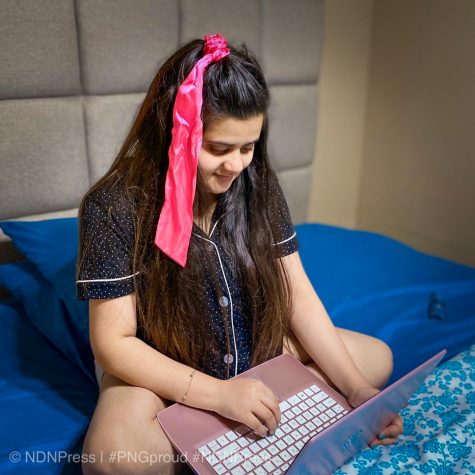 Sara Ashfaq is a junior at PN-G. On a normal school day, she is involved in Key Club, community service activities and theatre. This is her #NDNSatHOME story.
Q: How do you keep yourself busy at home?
A: Baking sweet treats! 🤩🧁🍩 
Q: What is something fun you've done this week?
A: I started a fundraiser for local foster homes and provided them with fun activities.
Q: What is one thing you have wanted to do this week, but couldn't?
A: I wanted to take pictures of nature but couldn't.
Q: How do you like the online assignments? Are they easy or hard?
A: EASYY PEASY LEMON SQUEEZY! Online assignments are fun !!!!! 
Q: What is one thing you miss from school? Why?
A: I MISS EVERYTHING FROM SCHOOL! SCHOOL IS MY HAPPY PLACE! 
Q: How do you feel about no more toilet paper in the stores?
A: I feel disgusting — because people were in a panic a few days ago and that they didn't even realize or care about anyone.
Q: What's the most interesting thing you've seen or heard throughout this experience?
A: PATIENCE. Literally, I never had patience in my life. I was always so impatient but this experience had taught me to be patient at certain times.
Q: What's one thing you're looking forward to next year that you hope doesn't get affected or ruined because of COVID-19 AND why?
A: MY COLLEGE EXPEDITIONS! 
Q: If you had one message to send your classmates right now, what would it be?
A: I MISS Y'ALL AND WE ARE ALL IN THIS TOGETHER! 💗
If you'd like to tell us your #NDNSatHOME story, send an email to: [email protected] and we'll send you a list of questions. Be prepared to send us a photo of yourself.