Alyssa Harper: An #NDNSatHOME Story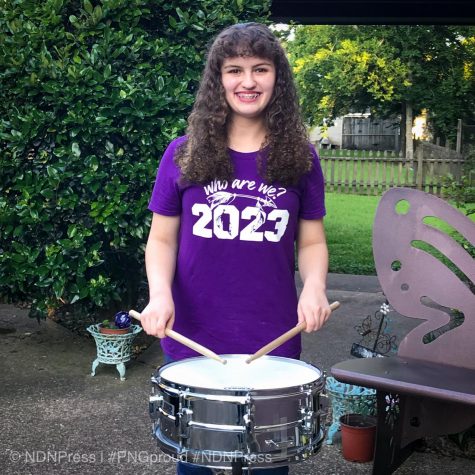 Alyssa Harper is a freshman at PN-G. On a normal school day, she is involved in percussion in the Purple Pride Band, UIL Academics (Number Sense, Calculator Applications, Mathematics and Spelling), SkillsUSA robotics, Student Council, First Baptist Church of Groves Youth Group and Debbie's Dance Etc. Dance Company. This is her #NDNSatHOME story.
Q: How do you keep yourself busy at home? 
A: Besides doing hours of homework, I have been keeping myself busy at home by painting, coloring, and cooking.
Q: What is something fun you've done this week?
A: This week I have worked on and planned different art projects.
Q: What is one thing you have wanted to do this week, but couldn't?
A: I really wanted to perform in my 12th dance recital for Debbie's Dance Etc., which was originally scheduled for this past weekend.
Q: How do you like the online assignments? Are they easy or hard?
A: The online assignments are not any harder than they would have been at school. They are all easy, but some have been very time-consuming.
Q: What is one thing you miss from school? Why?
A: I miss being able to participate in my classes and activities with my teachers and friends because I really enjoy school and miss them all.
Q: How do you feel about no more toilet paper in the stores?
A: I feel that the whole panic over toilet paper is kind of ridiculous and a bit crazy. I never knew that one item could be bought out of stores so quickly before this.
Q: What's the most interesting thing you've seen or heard throughout this experience?
A: The most interesting thing I have seen and heard are all of the precautions that businesses are taking when they reopen. I know they are necessary, but it makes this whole experience seem even more surreal.
Q: What's one thing you're looking forward to next year that you hope doesn't get affected or ruined because of COVID-19 AND why?
A: Next year, I am looking forward to my second football season on the drumline. I really hope COVID-19 does not affect it because marching band season is extremely enjoyable.
Q: If you had one message to send your classmates right now, what would it be?
A: I miss y'all and hope everyone is doing well. We have learned from this experience that we have taken a lot for granted and need to appreciate the little things. I believe that we will come out of this stronger than we were before!