Angelique Landry: An #NDNSatHOME Story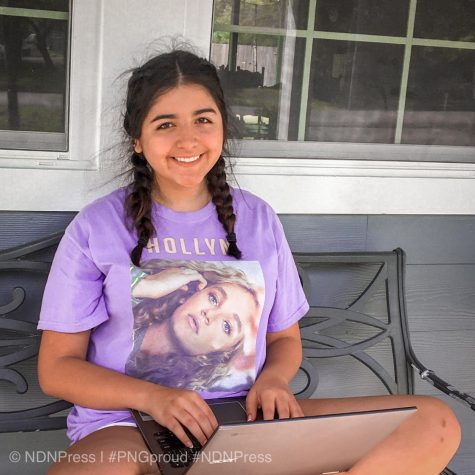 Angelique Landry is a sophomore at a PN-G. On a normal school day, she is involved in photojournalism, UIL and T.R.I.B.E. This is her #NDNSatHOME story.
Q: What have you missed most about school?
A: My photojournalism class and pep rallies.
Q: What have you been doing to pass the time at home?
A: Lots of swimming, tanning and art.
Q: What do you enjoy the most about the change from traditional schooling to online assignments?
A: The large amount of available time to get work done.
Q: Have you been keeping in contact with your friends from school?
A: Yes, we talk every day.
Q: How much longer do you think it will take for everything to go back to normal?
A: I believe about a couple months.
Q: What's the most interesting thing you've seen, heard or done throughout this experience?
A: That being off your phone and more in-depth with the outside world is way more relaxing.
Q: If you had one message to send to your classmates right now, what would it be?
A: Make the most out of the little things.
Q: What's one thing you're looking forward to next year that you hope doesn't get affected or ruined because of COVID-19 AND why?
A: Definitely the Friday night football games.
If you'd like to tell us your #NDNSatHOME story, send an email to: [email protected] and we'll send you a list of questions. Be prepared to send us a photo of yourself.