Paxton Shults: An #NDNSatHOME Story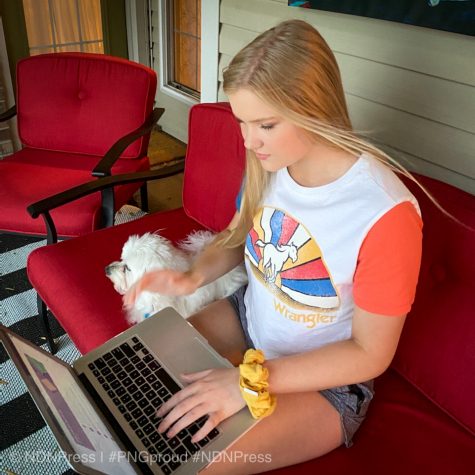 Paxton Shults is a junior at PN-G. On a normal school day, she is involved in varsity volleyball, varsity basketball, tarsity track, Young Life, National Honor Society, T.R.I.B.E., United Methodist Temple Youth Group, Pre-K Sunday School teacher — just made Varsity cheerleader for next year — and Association of Indian Athletes. This is her #NDNSatHOME story.
Q: How do you keep yourself busy at home?
A: I've been filming for my PK Sunday School class that I teach for the United Methodist Temple, still keeping in track shape (just in case we got to compete), and training and filming for virtual cheerleading try-outs.
Q: What is something fun you've done this week?
A: This week I planted cantaloupe and tomatoes.. I'm an actual farmer because I dug out a garden area in my yard. LOL. I did a Zoom with my Young Life group. It was so good to see our leader and the other kids. I never have time to cook, but this week I made homemade chicken and dumplings, taco salad shells from scratch and stuffed giant pasta shells with spinach and Italian sausage.
Q: What is one thing you have wanted to do this week, but couldn't?
A: I think this would be the week that we would've had our National Honor Society induction. I have been looking forward to that since I started high school. So many hours of activities and volunteer work have gone into reaching that goal. I'm sad for all my classmates that we couldn't be recognized.
Q: How do you like the online assignments? Are they easy or hard?
A: When the teachers do Zoom to explain the assignments, like a regular classroom, it is very easy. I struggle more when I can't ask questions as I go through the assignments. I really miss all my teachers and being in the classroom.
Q: What is one thing you miss from school? Why?
A: I miss seeing my friends in class, and just joking around in the halls, in sports and in the cafeteria. I miss all of that so much. I like being around everybody and keeping up with what is going on in their day.
Q: How do you feel about no more toilet paper in the stores?
A: Well I hate to admit it, but my dad grabbed a supply as soon as the toilet paper shortage rumors started floating around. I didn't get it though since COVID-19 affects your lungs, and has nothing to do with bathroom emergencies (:
Q: What's the most interesting thing you've seen or heard throughout this experience?
A: I have an amazing youth director at the United Methodist Temple. Her name is Emily Letulle. She has been a trooper by changing our youth group into a Zoom meeting. She has left surprises on our porches and had a pizza delivered to the people in our group trying out for cheer. She had to change her normal way of doing things and it didn't faze her one bit.
Q: What's one thing you're looking forward to next year that you hope doesn't get affected or ruined because of COVID-19?
A:  I hope that I get to go to basketball team camp with the Lady Indians this summer, cheer camp with the cheerleaders and start school on time. I hope none of the seasons are cut short, and that we are all at our senior Fire-It-Up Pep Rally together!
Q: If you had one message to send your classmates right now, what would it be?
A: We will all be back together soon! If anyone needs a workout partner, homework helper or just be a shoulder to lean on I am here for all of you. I always loved my high school, but I never truly appreciated PNGHS until I couldn't be there. I truly understand the meaning of "Always Be Faithful" after this experience, I hope my classmates feel the same way.
If you'd like to tell us your #NDNSatHOME story, send an email to: [email protected] and we'll send you a list of questions. Be prepared to send us a photo of yourself.