Alicia Abshere: An #NDNSatHOME Story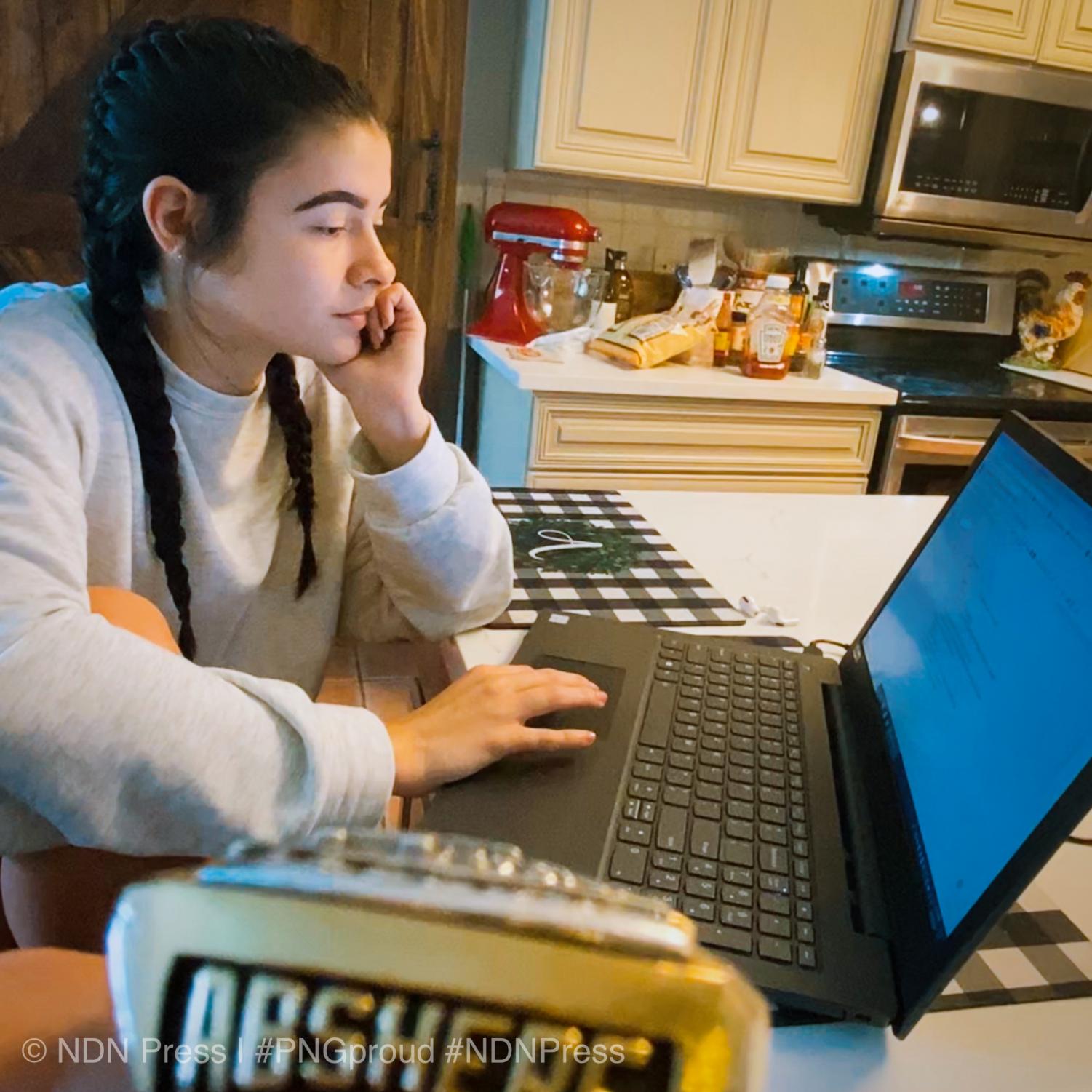 Alicia Abshere is a junior at PN-G. On a normal school day, she is involved in Indianettes, as the Junior Class President, an active member in T.R.I.B.E. and Indians Give. This is her #NDNSatHOME story.
Q: How do you keep yourself busy at home?
A: Before all of the closings and home lockdown, my life was pretty nonstop, so finding something I need to do to keep myself busy isn't that hard. I've been working out, stretching and getting better for dance, going over my dances I have, playing music with my dad and watching movies with my family.
Q: What is something fun you've done this week?
A: Since my dad hasn't been coaching all day and has been able to be home, he was able yo get the pool ready for these sunny days. My fun thing I've gotten to do is swim and enjoy outside in my backyard with my family.
Q: What is one thing you have wanted to do this week?
A: Dancing has always been my go-to. When I'm having the stressful, happy, sad, angry and joyful days, dancing at my studio has always been apart of me and is my way of letting go. This week I've really been missing getting to move and dance with my friends.
Q: How do you like the online assignments? Are they easy or hard?
A: I'm liking the online assignments. Some of my teachers have made it to where me and my classmates can still interact through doing some of the work. My answer is a bit of both — there aren't as many assignments but being in AP classes still gives you a kick of hard work to do.
Q: What is one thing you miss from school? Why?
A: A big thing I miss from school is going to Indianette practice. Some of my closet friends are in there and we were just working on our performances for our spring show. I miss the feeling of dancing with my best friends. We're all sisters through it and I miss seeing my teammates and sponsors during practices.
Q: How do you feel about no more toilet paper in the stores?
A: When I heard about the 'no more toilet paper' I was quite confused. You'd think water and bread would be swiped from the aisles, but I guess some people have their reasons.
Q: What's the most interesting thing you've heard or seen throughout this experience?
A: The most interesting thing I've seen throughout this experience has been so many relations of Bible verses connected to what this world is going through today. This one connects with not only COVID-19, but the other life altering issues throughout our world.
2 Chronicles 7:13-14:
"Whenever I hold back the rain (Australia) or send locusts to eat up the crops (Africa), or send an epidemic on my people (COVID-19), if they pray to me and repent and turn away from the evil they have been doing, then I will hear them in heaven, forgive their sins, and make their land prosperous again."
Q: If you had one message to send to your classmates right now, what would it be?
A: I miss them all. The 'home-schooling' isn't quite the same as having fun while learning with my friends. I'd ask them to stay safe. This isn't something we can take lightly anymore and I'm praying they're all making the smart decision to stay inside for everyone in our community so hopefully this will all be resolved sooner than later. I can't wait to see them all again, and to hopefully get to have a great summer before my class and I start of our senior at PN-G.