Ja'Naye DeRouen: An #NDNSatHOME Story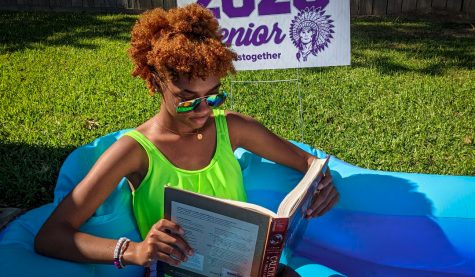 Ja'Naye DeRouen is a senior at PN-G. On a normal school day, she is involved in varsity track and works at Tony's Barbecue (Memorial location). This is her #NDNSatHOME story.
Q: What's the first thing you want to do when things go back to "normal?"  
A: See all of my teachers and friends face to face versus through Google Classroom or social media.
Q: What's one positive thing you think you can pull away from this situation?
A: Make the most of each today, don't wait until tomorrow. Who would have ever thought this would be the longest Spring Break ever!
Q: What have you learned about yourself while distance learning has been in place?
A: Make the most of every situation. For example, I changed my studying environment, purchased a mini-pool and studied outside with my siblings.
Q: If 2020 had a theme song what do you think it would be?
A: "We Gon' Be Alright," by Tye Tribbett.
Q: Have you taken up any new hobbies with all the free time? What are they?  
A: Yes, making wrist and ankle bracelets. Also, narrowing down color scheme options and purchasing items for my dorm room.
Q: What's your favorite distance learning class and why?  
A: AP Calculus. Although it is distance learning Ms. Hamilton connects with videos. The assignments are personable and I am sitting in class everyday.
Q: Finally, what message would you like to give to your fellow classmates?  
A: Everyone (Dr. Scott Ryan, Mr. Deckart, Mrs. Faircloth, Teachers, Administration, Staff, Adoptive Parents, Our PN-G community, etc.) has done their part to ensure we have the BEST Senior year ever. I WILL see you at one of the Senior Milestone Event Options. Finish Strong — the race is not given to the swift nor the strong but he who endures until the end. A DELAY is not a DENIAL. See you soon!
If you'd like to tell us your #NDNSatHOME story, send an email to: [email protected] and we'll send you a list of questions. Be prepared to send us a photo of yourself.