Kaleb Wuenschel: An #NDNSatHOME Story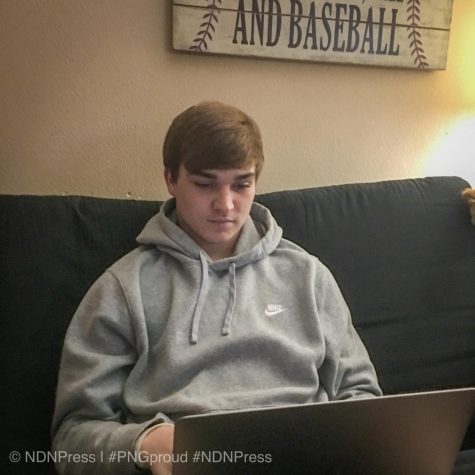 Kaleb Wuenschel is a senior at PN-G. On a normal school day, he is involved in football, track and as a peer tutor. This is his #NDNSatHOME story.
Q: What have you missed most about school?
A: Seeing my friends everyday.
Q: What have you been doing to pass the time at home?
A: Hanging out with my brothers and parents and relaxing.
Q: What do you enjoy the most about the change from traditional schooling to online assignments?
A: I can finish it all my work faster and do it from my bed.
Q: Have you been keeping in contact with your friends from school?
A: Yes. I talk to them almost everyday
Q: How much longer do you think it will take for everything to go back to normal?
A: At least a few more months.
Q: What's the most interesting thing you've seen, heard or done throughout this experience?
A: Seeing the community come together to help support each other. Also, the craziness over toilet paper.
Q: If you had one message to send to your classmates right now, what would it be?
A: Keep a positive mind set through all this. We will get through this.
If you'd like to tell us your #NDNSatHOME story, send an email to: [email protected] and we'll send you a list of questions. Be prepared to send us a photo of yourself.