Sandell enjoys helping students succeed, make good choices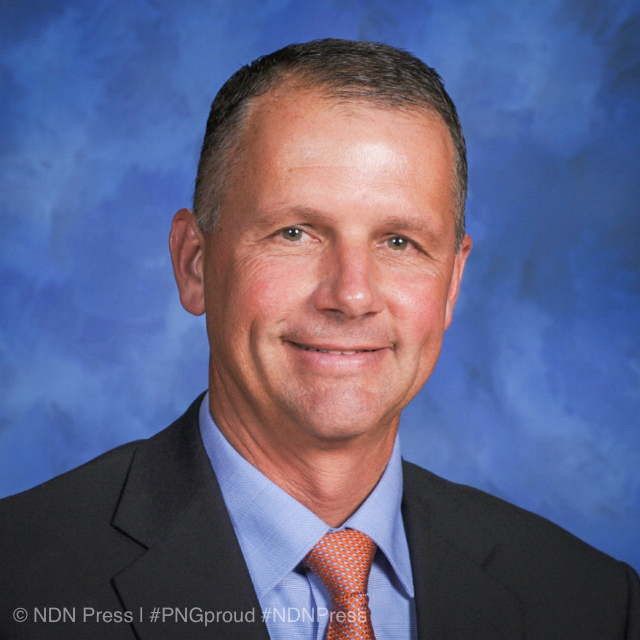 This week is National Assistant Principals Week, a week dedicated to "honor and recognize the contributions of assistant principals to the success of students in schools across the United States," according to the National Association of Secondary School Principals (NASSP).
For the rest of this week, we'd like to take a break from our #NDNSatHOME series and focus on our own APs, who work hard every day to help change lives and lead by example — and make us #PNGproud.
For our third AP, NDN Press' Landon Mangus  asked these questions to Mr. Don Sandell.
Q: What do you think is the most important contribution an assistant principal brings to a school?
A: I always felt like safety comes first.  If I can help create a safe environment, then I feel like students and teachers can maximize learning.  Also I believe assistant principals must have strong organizational skills.  Many times we have to juggle a number of high priority tasks and in order for us to be successful, it helps to be organized.
Q: What are all of the duties that come with being an assistant principal?
A: There are several, mainly to help manage student behavior.  Also, to help create school wide goals related to student learning, instructional leader to staff members, supervision of extra curricular activities, and teacher evaluations.
Q: What made you want to become an assistant principal (or educator)? 
A: One reason for becoming an assistant principal is that I enjoy interacting with students and helping them become more successful. I feel like I have the ability to help students make good choices and decisions and I try to give them every opportunity to be successful. I also hope one day to be a principal at a school and I feel like being an assistant principal will help me gain the knowledge and experience needed.
Q: What is the toughest challenge you have faced before as an assistant principal? 
A: One of the toughest challenges of being an assistant principal is ensuring parents that their child will be safe under our care.  We are always thinking of different measures that we can take to ensure student safety.  Other challenges that we often face is student attendance and low academic achievements.  When students start accumulating excessive absences, sometimes it's difficult to get them back on track with their school work.
Q: How have you and your job adapted to the ongoing pandemic?
A: The pandemic has definitely altered the education process.  Our school district has done a fabulous job of finding different ways to reach students so that we can continue their education.  Through Google Classroom and Google Meets, we've been able to reach out to students, teachers and administrators and stay in touch while staying safe.
Q: If you had one message for the students right now, what would it be?
A: One of the biggest reasons I love PNGHS so much is that we have the greatest students in the universe!  They've been through so much this year, nothing seems to phase them. I just hope everyone is doing well and practicing the safety measures to stay healthy!
Q: If you had one message for the staff right now, what would it be?
A: We wouldn't be where we are today without our staff, they are the greatest!  I am so proud on how well they have adapted with online teaching, it doesn't seem like they've missed a beat!  My one message would be to say: 'Thank you for your hard work and dedication during this difficult time!'
National Assistant Principals Week is April 6–10, 2020. #APWeek20 #PNGproud #NDNPress #PowWow