Nancy Ryan: An #NDNSatHOME Story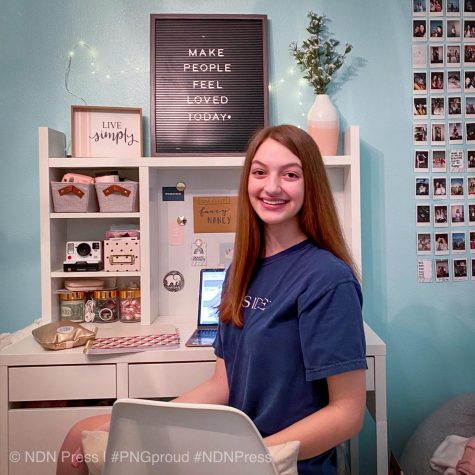 Nancy Ryan is a freshman at PN-G. On a normal school day she is involved in Indians Give and as an Indianette. This is her #NDNSatHOME story.
Q: How do you keep yourself busy at home?
A: Lately I've been painting, cleaning, watching Netflix and playing Mario Kart with my family.
Q: What is something fun you've done this week?
A: My mom, sister, and I picked up food one day and drove to Port Neches park and ate in our car by the river.
Q: What is something fun you've wanted to do this week?
A: Freshman prom was a few days ago and I wish I could've gone.
Q: How do you like the online assignments? Are they easy or hard?
A: So far I think they're pretty easy; I'm having fun going at my own pace and I love have time to actually write notes.
Q: What is one thing you miss from school? Why?
A: I miss all my friends because a lot of them I don't get to talk to much outside of school.
Q: How do you feel about no more toilet paper in the stores?
A: It hasn't affected me so far because my family has plenty — but I think it's crazy.
Q: What's the most interesting thing you've heard or seen throughout this experience?
A: " think this whole thing is just crazy in general and the fact that it's so unpredictable right now.
If you'd like to tell us your #NDNSatHOME story, send an email to: [email protected] and we'll send you a list of questions. Be prepared to send us a photo of yourself.