Indian Players ready to get caught in the "Act"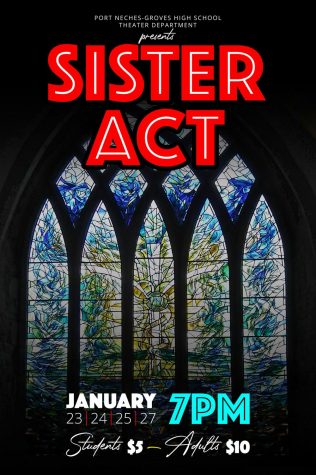 It has gangsters. It has showgirls.
It's also a redemption story filled with crime and singing nuns. It's a high school musical based on a movie and the Indian Players are ready for a divine performance.
The theater department's production of "Sister Act" will open it's four-performance schedule Thursday night with a Project Graduation-based fundraiser show. Entry for Thursday night is "pay what you can."
Admission for the rest of the run will be $10 per adults and $5 per students.
Ahead of the production, cast members met with NDN Press junior reporters Landon Mangus and Halee Rhoades for a Q&A session in the LGI room. To view the entire press conference, click on the video embedded on this page (or click here).
HALEE RHOADES
Q: What is your favorite part about theater?
A: (Carter Collins) I think my favorite part about theater are the people and the experience. There is never going to be another set of people that are going to be as special to me as the people sitting right here.
Q:How do you see theater affecting your future?
A: (Elizabeth Decluitt) I am not majoring in theater. However, ("Sister Act") has really showed me how to adapt and compare and so I feel like that's really going to help me with the career I'm going for. 
LANDON MANGUS
Q: Who  is your character and what are they all about?
A: (Maura Gibson) I play Sister Mary Robert and she has lived her entire life as a nun. She has always been quiet, but over the course of the play she learns to open up, kind of like what we have experienced in our time in theater."
Q: If you could change anything about your production, what would it be?
A: (Gabby Fiorenza) I wouldn't change anything about our production. Even though we may have experienced complications, it was all meant to be. Let us do our best at our worst."