Cade Latiolais: An #NDNSatHOME Story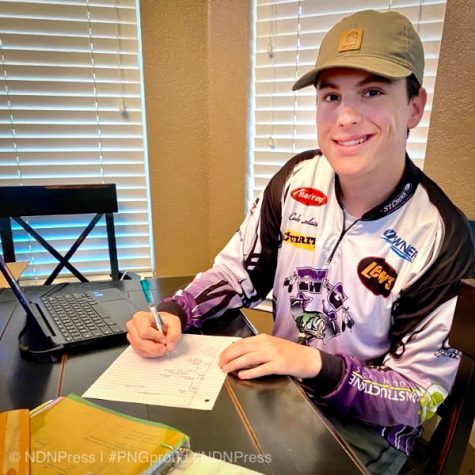 Cade Latiolais is a senior at PN-G. On a normal school day, he is involved as a member of the fishing team and National Honor Society. This is his #NDNSatHOME.
Q: What's the first thing you want to do when things go back to "normal?"
A: There are a lot of things but I would say that I want to be able to hang out with friends, family, go out to eat and be able to attend church again.
Q: What's one positive thing you think you can pull away from this situation?
A: Being able to slow down and appreciate the little things that we take for granted in our everyday lives.
Q: What have you learned about yourself while distance learning has been in place?
A: I learned that I definitely don't feel smart without a teacher guiding me through the lesson. We truly do appreciate teachers and everything they do for us. Because during these times, it's very hard to learn without them.
Q: If 2020 had a theme song what do you think it would be?
A: The "Wash Your Hands" song.
Q: Have you taken up any new hobbies with all the free time? What are they?
A: Riding my bike around Groves and enjoying being outside.
Q: What's your favorite distance learning class and why?
A: Government. I'm really learning a lot in that class especially about what the government is doing to try and reopen our country.
Q: Finally, what message would you like to give to your fellow classmates?
A: That God's got us — and has big plans for us for the future. Never lose faith and don't forget to wash your hands.
If you'd like to tell us your #NDNSatHOME story, send an email to: [email protected] and we'll send you a list of questions. Be prepared to send us a photo of yourself.